Assuring that enrolled patients have the target disease
Enrollment of patients with the correct target disease is critical to demonstrating treatment effect. However, when using only clinical diagnosis, as many as 35% of patients enrolled in Alzheimer's disease trials have not had the target disease. This challenge increases as trials move to earlier stages of disease progression, where symptoms are more subtle or not yet detectable.
ADMdx helps to assure appropriate patient inclusion by using a flexible selection of imaging modalities, to align with trial needs:
Amyloid imaging:

ADMdx's measurement methods ensure reliable quantification of amyloid burden. Our early-frame measurement methods allow this to optionally be performed during the initial 20 minutes post-injection, while simultaneously providing information regarding brain function and neurodegenerative status.

Structural MRI:

Our multivariate structural MRI classifiers help to differentiate amyloid positive and negative subjects, whether or not amyloid data is available.

FDG PET:

ADMdx's multivariate FDG classifiers also help to differentiate dementias, with discrimination accuracies of >96% demonstrated between subjects having dementia due to Alzheimer's disease, Frontotemporal dementia, and Lewy body disease.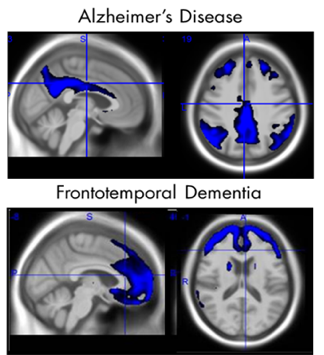 Identifying patients with target disease within enriched, co-morbid populations
ADMdx's pattern classification technology can identify the presence of Alzheimer's disease in prodromal stages against the background of co-morbid conditions.  We have demonstrated this in collaboration with researchers at UCSD in adults with Down Syndrome.  Using FDG PET and structural MRI, ADMdx demonstrated that the effects and longitudinal progression of Alzheimer's disease could be identified as distinct from underlying effects associated with Down Syndrome, using either imaging modality.